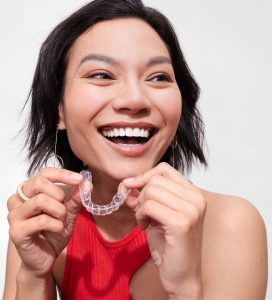 Braces can improve the smiles of people of all ages, but to be honest, not everyone wants to deal with the extra dental visits, complicated brushing, menu restrictions or aesthetic look and feel of metal braces. If you are looking for a comfortable, discreet alternative to traditional braces, our team may recommend clear aligners. At Richard S. Durando, DDS, our dentist will be happy to see you for a visit to discuss Candid clear aligners in Menlo Park, California.
Unlike metal appliances, Candid aligners are made of a thin, smooth plastic that is specifically designed to fit your teeth and gently move them into the correct position, without compromising your style and natural appearance. This makes them especially popular amongst teenagers and professional adults.
How Does It Work?
Your orthodontic journey starts with a simple consultation with our dentist, who will help you determine if this treatment is the right choice to meet your dental health and beauty goals. You will wear a series of custom-designed clear aligners, moving to the next set every two weeks.
CandidApp™ and CandidMonitoring, a scanner you use with your smartphone so you can scan from wherever you are, will give our dentist complete access to your progress and allow you to stay in constant communication throughout treatment.
Learn More About CandidMonitoring
See Candid Treatment Results
Click here to download your payment form.